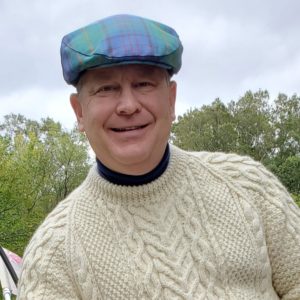 Bio:
Wes Latchford is Program Manager for the U.S. Navy's Information Warfare Enterprise where he manages information warfare strategy and policy, long-range planning, and executive management across the U.S. Marine Corps, U.S. Navy, and U.S. Coast Guard. A retired "Navy Mustang," he served as both a Naval Intelligence Officer and enlisted submariner. Wes graduated cum laude from the University of South Carolina with a BA in Political Science, has an MS in Security Management from Bellevue University, an MA (with Distinction) in National Security and Strategic Studies from the U.S. Naval War College, and is currently completing a Graduate Certificate in Public Sector Leadership from Old Dominion University. He is a certified Project Management Professional, Master Human Capital Strategist, Usui Reiki Master, and Chakra Energy Healer. Wes is currently Worshipful Master of Atlantic Lodge No. 2, A.F. & A.M., Norfolk, Virginia, and Senior Warden of Lynnhaven Lodge No. 220, A.F. & A.M., Virginia Beach, Virginia. He also serves as District Educational Officer for the 35th District, Grand Lodge of Virginia; a member of the Masonic Herald Publications Board, Grand Lodge of Virginia; and Director of Education, Valley of Norfolk, Orient of Virginia, AASR 33˚ SJ USA.

Prepared Topics:
Dressed to the Nines: The symbolism of the Well-Dressed Mason – 20 Minutes
Is there some deeper meaning and symbolism to being "Dressed to the Nines" for Lodge? Is a reverence of attire somehow a part of our Craft? In this presentation, investigate the etymology of the number nine, the history of "to the nines" as an idiom meaning "to perfection," the Nine Worthies and the Nine Muses of ancient lore and mythology, and how being "Dressed to the Nines" reflects our Masonic obligations.
The Infinity Stones – Achieving Harmony and Balance – 20 Minutes
In Marvel Comics and the Marvel Cinematic Universe, the Infinity Stones are powerful gems with unique properties born out of the very beginning of the universe. Oh, and they also give the bearer phenomenal powers as well. In this presentation, get a closer look into the possible real-world equivalents of the Infinity Stones, their associations with developing our inner Lodge, and the application of these stones in achieving harmony and balance in our lives as Freemasons.
Solemn Strikes the Funeral Chime – Brother David Vinton – 20 Minutes
To tens of thousands of Masons, Brother David Vinton will forever be a star in the annals of Freemasonry. His simple, poetic dirge has earned him the respect of every Brother who has marched the march of Solomon or prayed the soliloquy over a fallen Brother. In this presentation, discover the sad irony of the man who wrote these words, sung in Lodge rooms and at gravesides by thousands of Freemasons in America, who was himself buried without Masonic honors.
Before the Door of Every Well-Governed Lodge – The Tiler's Sword – 20 Minutes
There stands a Tiler "with a drawn sword in his hand." No symbol in Freemasonry is anything less than the idea symbolized. The Tiler's sword, too, has a much greater significance to be explored. In this presentation, uncover some of the histories of the Tiler's sword, its symbolism in our degree lectures, and its allegorical uses beyond that of a tool of defense against an invasion of privacy.
A Drone in the Hive of Nature – Where are You in Your Masonic Journey? – 20 Minutes
The symbolism of the beehive is "to be ever industrious ones, never sitting down contented while our fellow creatures around us are in want when it is in our power to relieve them without inconvenience to ourselves." But Freemasonry is filled with allegory – representing one thing when it is actually alluding to something else. In this presentation, understand the allegory of the beehive from the perspective of the bees themselves, and explore how the last sentence in the story may be more important to our lives and the Craft than all the sentences before it.
American Freemasonry in the Trenches – The Craft During the Great War" 20 Minutes
How did American Lodges cope with their members being called up to fight? What was the experience of Freemason on the front lines, in the rear, in captivity, and back home? After the war, what new challenges did Freemasonry face? In this presentation, explore all these aspects of the War to End All Wars and its impacts on American Freemasonry.
Travel Information: Wes is always happy to do presentations virtually and is available to speak in person at events in the Hampton Roads and Eastern Shore regions of Virginia, along with northeastern North Carolina. For non-local events up to 6 hours' driving distance away from Hampton Roads (or farther away if flying), he respectfully requests that lodging and travel costs be reimbursed at a minimum.
Websites: NA
To book Wes, contact him direct with the form below.