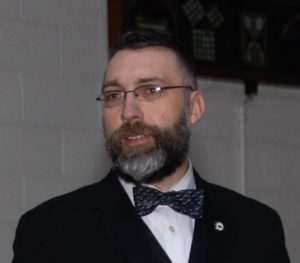 Bio:

Michael is obsessed with making connections. Since he's an electrician by trade, that's generally a good thing. He has shared these connections over the years in presentation or print form. They include diverse topics such as Be the Rebellion: Star Wars and Freemasonry, James Naismith: Virtue in Motion, My Calendar Doesn't Have Any Sevens, and The Mason with a Thousand Faces. No matter the topic, however, his central theme is always about choosing the path of virtue and progress while helping others to do the same. His work has also been included in numerous publications, and he has edited several issues of the Fraternal Review magazine. Over the last few years he has increasingly contributed his time and energy to the practice of Greek philosophy and religion in the Orphic tradition. He has developed and hosted several YouTube channels such as Being Human Kind and the recent rerelease of Masonic Curators. He also maintains a website of his work as well as that of several others titled For the Curious Mind. He is a Past Master of Brigham Lodge in Ludlow and a member of Ezekiel Bates Lodge, The Meadows Lodge, and The Massachusetts Lodge of Research, where he is currently Master. He is a Past Junior Grand Warden of The Grand Lodge of Masons in Massachusetts and is currently serving as Co-Chairman of the Lodges of Instruction for the same Grand Lodge. He lives with his lovely wife, Beth, and beautiful daughter, Amelia, in Ludlow, Massachusetts. He currently works as a Deputy Project Manager for a government contracting firm.
Prepared Topics:
The Mason with a Thousand Faces – 45
Minutes Be the Rebellion: Star Wars and Freemasonry – 30
Minutes My Calendar Doesn't Have Any Sevens – 45
Minutes James Naismith: Virtue in Motion – 45 Minutes
Travel information: Michael is available to speak at tiled and untiled events local to within the Massachusetts area. For non-local events up to 4 hours' driving distance (or farther away if flying) away from the Massachusetts area, he respectfully requests that lodging and travel costs be reimbursed at a minimum. Travel is limited to weekends for the most part but some exceptions may be considered. He is also available to do presentations virtually. 
Website:
To book Mike, contact him direct with the form below.