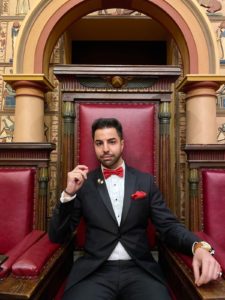 Bio:

Kian Hassankhan was born in Tehran, Iran. At the age of 7, he moved to the United States with his family. Kian grew up and currently lives in Henderson, Nevada. At the age of 18, Kian dedicated and devoted his life to pursuing a career in the entertainment industry. He began studying music theory along with taking professional music lessons learning the piano, vocals and a Persian instrument called the Santoor. Shortly after beginning his musical journey, Kian began to study the hidden wisdom behind sound and vibration. His studies lead to a fascinating understanding of the mathematics of music, along with esoteric associations with the planetary spheres and notes/scales/tunings attributed to different states of consciousness. Kian currently applies all that he has received to the original music that he creates. He received his Bachelor's in Business Marketing and is currently expanding his entertainment company and artist career.

Kian got introduced to Freemasonry at the age of 19. Though he did not know how to join, the path opened unto him at the age of 23. He petitioned at Vegas Lodge #32 and was initiated September 21st, 2018. He was passed on January 11th, 2019 and Raised to the Sublime Degree of Master Mason on February 15th, 2019. He is a member of the Scottish Rite and York Rite (capitular and cryptic) bodies and is very active as an officer in his lodge. He has served as the Organist/Director of Music since his Raising.
Prepared Topics:

The Healing & Moral Properties of Sound and Music – 30 Minutes
This presentation focuses on the effects of music and sound on matter. The lecture dives deep into the mathematics of music, Newton's first law of physics, the effects of intentional sound/music on matter, different tunings used by the ancients to have direct experiences of God, and how Geometry is the direct manifestation of sound/music.

At the end of the lecture, an immersive sound bath experience (5-10 minutes) using instruments tuned to mathematically precise scales and tones, is demonstrated so that the Brothers present can have a direct experience of the teachings.
Travel information: With due and timely notice, Kian is open to traveling anywhere. He would be grateful if flights, hotels and food can be covered.
Website:
Kian can be found along with his musical works at http://www.kiantheone.com/

His podcast, Masonic or Not? can be found at https://youtube.com/channel/UCKHRg4HggrwfGRBer5qHBEA
To book Kian, contact him direct with the form below.