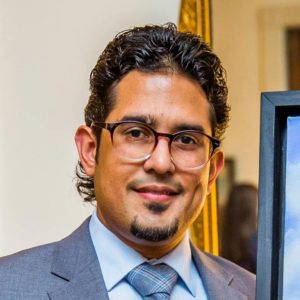 Bio:

Bro:. Juan Sepulveda is a professional artist and award-winning public speaker whose main topics of interest include the practical application of the teachings of Freemasonry and the development of men into gentlemen. Bro:. Sepulveda is the host of The Winding Stairs Freemasonry Podcast and Co-host of The Masonic Roundtable. He is also the Lodge Historian of Orange Blossom Lodge No. 80 in Kissimmee, Florida. Member of The Ancient and Accepted Scottish Rite, S.J. Orient of Florida, Valley of Orlando. Eureka Chapter No. 7 R.A.M., Orlando Council No. 5 R.&S.M., Olivet Commandery No. 7 K.T.
Juan Sepúlveda is the founder of The Gentlemen's Brotherhood, a company dedicated to inspiring men to become the best possible version of themselves. For over a decade, he has been using his words and his paint brushes to share stories that can inspire people to live a life worth emulating. As an award-winning speaker, Juan Sepúlveda is regularly invited by organizations to speak about personal development, manners, civility, relationship-building, effective customer service, and inspiring leadership.
In 2014, as a result of his efforts to help good men become even greater men, The Governor of Kentucky, Steven L. Beshear, decorated Juan Sepúlveda as a Kentucky Colonel, the highest title of honor bestowed upon a civilian by the State of Kentucky. Today, Juan Sepúlveda lives with his wife and two sons in Kissimmee, Florida, where he continues to follow his dream of having a positive impact on others through his voice and his brush.
Prepared Topics:

Applied Freemasonry – 60 Minutes
We often hear Freemasonry described as a Fraternity that takes good men and makes them better. I would argue that Freemasonry gives good men the tools to become better men. There is a great distinction in those two explanations because the latter reflects our reality more honestly. By our membership in this honorable organization, we have access to the right tools, but we do ourselves, our family, and society a disservice if we fail to diligently put those tools to work for our improvement.

A Faulty Foundation – 60 Minutes
This dynamic presentation draws some parallels between the current state of Freemasonry as an organization and the most famous architectural blunder in the world… The Leaning Tower of Pisa. This presentation uses the symbolism of the faulty foundation of The Tower of Pisa to encourage Brothers to focus on solidifying their foundation as Masons before they strive to build a beautiful edifice above it.

Bridging the Gap – 60 Minutes
This speech focuses on three areas where we currently can find significant gaps within our Fraternity. The presentation is divided into three sections: The Gap of Expectations, The Gap of Wisdom and The Inner Gap. The Gap of Expectations shines a light on the discrepancies between what candidates expect of our Fraternity and what they eventually encounter when given admittance. The Gap of Wisdom tackles the fact that there is great wisdom in our midst, but often times we don't access it. Finally, The Inner Gap encourages each Brother to take action in applying the lessons of Freemasonry into their respective lives.
From The Quarry to The Temple – 60 Minutes
take the audience along through the journey of a roughly hewn stone from The Quarry to The Temple. This uplifting speech illustrates the parallels of the transformation of a rough stone into a masterpiece, with the opportunities we have to do work that is meaningful and worthy of The Temple.
Behaving Like a Mason – 60 Minutes
In an era where people are constantly connected to one another through the marvels of modern technology, many people sacrifice civility. This speech deals with the contemporary problem of making our lives public through the internet. It also addresses the importance of behaving like a Mason in our everyday life. When we choose to identify ourselves publicly as members of the Fraternity, we are committing to lead by example and never give others a bad impression of what it means to be a Freemason.

Practicing the Art of our Mysteries – 90 minutes
In this ninety-minute presentation, I will help the group engage in a dialogue where we'll explore the Masonic ritual in terms of personal experiences. Participants will consider questions like, "How do I express my free will without infringing on the free will of others?" or "How do the duties of the Tyler help me in my day-to-day life?" This talk will give each Brother a simple, repeatable process consisting of silent introspection, written reflection, and verbal dialogue with others that they can use to make deep, personal connections to the Craft's symbolism. This process will enable every Freemason to improve their understanding of self and their relationships with others.
A tailored message
Please note, that in addition to these available topics, if there are challenges that your local jurisdictions are facing, I will be happy to consult with you to make sure that the Brothers leave our meeting with actionable steps to tackle those difficulties. Whether by incorporating those lessons into existing presentations or by developing an entirely new message, my goal is to not just entertain Brothers for a little while but to leave them with the necessary tools and motivation to go and try to solve their problems. Most presentations are between 20-40 minutes in length but can be modified to meet almost any schedule including day-long workshops.
I am looking forward to visiting your Lodge or Event and to continue working with you to make your event a memorable one.
Travel Information: For speaking engagements outside of the Central Florida area, we kindly request that transportation and lodging costs are covered by the inviting Lodge or Organization.
Website:

www.thewindingstairs.com
www.thegentlemensbrotherhood.com
To book Juan, contact him direct with the form below.