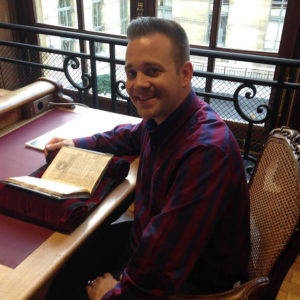 Bio:

Josef Wäges 32° Freemason, is a member of the Blue Friars, member of Plano Lodge #768, Fate Lodge #802, the Dallas Valley of the Scottish Rite of Freemasonry (Southern Jurisdiction), Fellow of the Grand College of Rites, Fellow of the Philalethés, full member of the Texas Lodge of Research, Michigan Lodge of Research and life member of the Missouri Lodge of Research. Editor of The Secret School of Wisdom, the Authentic Rituals and Doctrines of the Illuminati, L'École secrète de sagesse, Rituels et doctrines authentiques des Illuminati: Une école secrète de Sagesse, and On Materialism and Idealism. He is currently preparing the forthcoming books, Ecossais Masonry: A History of the High Degrees from the Scots Master to the Order of the Royal Secret, for SRRS, The Columbian Illuminati, The Improved System of the Illuminati.
Prepared Topics:

The Freemasonic Degrees of the Illuminati – 60 Minutes
Morin and the Baylot Manuscript – 60 Minutes
The Scots Master Degree: Hidden in Plain Sight – 60 Minutes.
The Original Position of the Wardens – 60 Minutes
Travel Information: Airfare, accommodations, food and honorarium.
Website:

www.maltaminervaleditions.com
To book Joe, contact him direct with the form below.