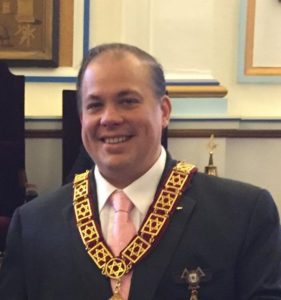 Bio:

David is a Past Master of Amicable Lodge, Cambridge, MA, a Past High Priest Cambridge Chapter, and Co-host of Three Distinct Knocks Masonic Podcast.
Prepared Topics:
A Taxonomy of Anti-Masonry: 45 Minutes
A look at different sorts of Anti-Masonry and how we might answer,
Toward Better Masonic Education: 45 Minutes
A discussion of the purpose of Masonic Education and how we might improve it in our lodges.
Other topics as requested: (length and specific content easily tailored to the occasion)
Travel information: David is willing to travel anywhere if basic expenses (flight, hotel) are covered.
Website: N/A
To book David, contact him direct with the form below.