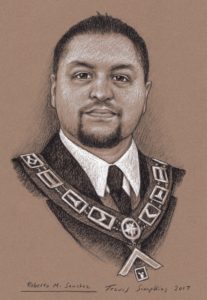 Bio:
Roberto M. Sanchez is a very active Freemason. He served as Worshipful Master of his Mother Lodge – Gray Lodge No. 329 in 2011-2012, and as District Deputy Grand Master for the Grand Lodge of Texas in 2013. In 2013-2014, he served as President of the Master's, Warden's and Secretaries Association of the 30th District in Houston, Texas as well as serving as Worshipful Master of St Albans' Lodge No 1455 a Traditional Observance Lodge in College Station, Texas. He also served as Secretary of Gray Lodge No. 329 for many years. Roberto is a member of several Grand Jurisdictions, including the Grand Lodge of the State of Mexico where he holds the title and distinction as Past Grand Master, as well as serving as the Grand Ambassador of International Relations for that Grand Lodge.
Roberto is a member of the Houston Scottish Rite where he is a 32° (K.C.C.H.) Knight Commander of the Court of Honor; and served as Commander for the Houston Council of Kadosh in 2014. In 2009, 2011 and 2013 he was aid to the Sovereign Grand Commander, Ronald A. Seal, during the Supreme Council session. Roberto is also a member of the York Rite, where he has served as presiding officer of Washington Chapter No. 2 R.A.M., Houston Council No. 1 R.&S.M. and Ruthven Commandery No. 2. As a result he was invited into the Knight York Cross of Honor (K.Y.C.H.) Roberto is also a member of Chinar Grotto M.O.V.P.E.R. where he served as Monarch, the presiding officer in 2013, and is also a Past Grand Tall Cedar of Mexico Forest of the Tall Cedars of Lebanon.
For his dedication to the Craft, Roberto has been invited to several honorary and invitational bodies such as: The Societas Rosicruciana in Civitatibus Foederatis (SRICF), where he is currently the Celebrant for Stella Sola College in Texas and Herald for the National High Council of the S.R.I.C.F.  Sam Houston Council Allied Masonic Degrees No. 275 where he served as Sovereign Master in 2013 and is currently serving the Grand Council as the Superintendent for Texas-South. Gulf Coast York Rite College No. 106 where he served as Governor in 2019-2020. Lone Star Chapel No. 5 Commemorative Order of St. Thomas of Acon where he served as Worthy Master in 2019-2021, and is currently the Assistant Grand Marshal for the Province of South America. Anson Jones Council of Knight Masons No. 47 where he served as Excellent Chief in 2016. In 2017, he was awarded the Knight Commander of Zerubbabel by the Grand Council of Knight Masons USA. He also belongs to the Royal Order of Scotland, Holy Royal Arch Knight Templar Priest, the Grand College of Rites, Order of Athelstan, Ypres Prefecture of the C.B.C.S. under the Great Priory of Belgium and several other bodies across Europe, North & South America.
Roberto has given lectures on Masonry all over the United States, Latin America, Canada and Europe. Because of his love for history and Masonic research, Roberto joined Texas Lodge of Research, where he has submitted various papers and therefore was elected as a full member and served as Junior Warden. Roberto served on the Board of Directors for the Masonic Building Association of Holland Lodge No 1. He is also the original Curator, Historian and Librarian for the Houston Masonic Library Museum as well as serving on the Board of Directors and Executive Committee. He is the author of The True Masonic Experience, A Guide to the Ceremonial, and several other books.
Prepared Topics:
The True Masonic Experience – 30 Minutes
Ne Plus Ultra – 30 Minutes
The Chamber of Reflection: A Revitalized and Misunderstood Practice – 45 Minutes
The Table Lodge: A Forgotten Masonic Practice – 20 Minutes
Freemasonry and the French Revolution – 20 Minutes
The Square the Compasses and the United States – 20 Minutes
Travel Information: Willing to travel World Wide as long as expenses are covered (Flights, accommodations, meals etc.)
Books available – https://www.amazon.com/True-Masonic-Experience-Roberto-Sanchez/dp/0999059637
Website:

https://rmsanchez33.wordpress.com/
To book Roberto, contact him direct with the form below.