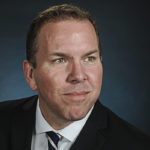 Bio:
Jim is a non-verbal autistic self-advocate, special education teacher, researcher, lecturer, best-selling author, and instructional designer. Pronouns: They / Them / Their / Dr.
"As a non-verbal autistic person, I'm able to empathize with a diverse range of learner types. That empathy makes it's way into all the content that I create and the classes in which I teach. I actively work to build and sustain meaningful relationships within the learning communities that I serve. Utilizing Universal Design for Learning methodology, I create and deliver meaningful, standards-based content for the traditional and non-traditional learner, in contexts that include educational, professional, and social / fraternal. I specialize in creating and delivering culturally relevant learning experiences that will have the most impact."
Jim has earned a PhD in Education, as well as two Masters' degrees – MEd Instructional Design and MA – Organizational Leadership. Jim's Master's in Organizational Leadership (2010) from Woodbury University in Burbank, CA, focused on the Lodge of Perfection (SJ USA) as a leadership academy for men. His thesis was later expanded into a best selling book, Leadership in the Lodge of Perfection. It is currently in it's third edition and undergoing another revision in light of current trends both in life and in Freemasonry.
Jim was initiated, passed, and raised to the sublime degree of Master Mason in North Hollywood Lodge #542 (2003-2004) but now spends his time at Archimedes Lodge, #871 (founding member), in Pasadena, CA, as well as traveling the world visiting and speaking with Masonic bodies in his spare time. Being very busy professionally, he has also been a member of Oasis Lodge #854 (founding member and Chaplain, 2012), Lancaster Lodge #437, Reseda Lodge #666, and Beverly Hills Lodge #528 (Treasurer, 2006). He is an active member (33°) of the Scottish Rite bodies in Pasadena and Long Beach, CA, and Guthrie, OK., the San Fernando Valley York Rite bodies, the Allied Masonic Degrees, the Grand College of Rites, the Royal Order of Scotland, Al Malaikah Shrine, the Scottish Rite Research Society, the WSB Club, and the Oklahoma Lodge of Research. Jim is a graduate of the Scottish Rite's Master Craftsman program (Levels 1-3) and is currently involved in the College of the Consistory that is run from the Valley of Guthrie.
Jim is an active Masonic speaker and can be found on the Grand Lodge of California's Masonic Education Speaker List. He is a graduate of the Grand Lodge of California's Lodge Management Certification Program.
Jim has been most active in the Ancient and Accepted Scottish Rite of Freemasonry. He is currently Director of the Work for the Valleys of Long Beach and Pasadena, CA. Previously, he was Wise Master of the Pasadena Chapter of Rose Croix (2012) and served as Classroom Director from 2008-2014. He was the Editor / Publisher of the Valley's monthly bulletin and web site from 2006-2014. Prior to his receiving honors, he served in the Valley's Knights of St. Andrew service organization, rising to the rank of Knight High Counselor and attending to the Valley's needs as necessary.
Prepared Topics:
*All presentations are pegged at 45 minutes.They include full lecture notes with references. These notes can be shared ahead of bookings. The lectures are suitable for public meetings, but can be tailored to focus on elements only suitable for Tiled sessions. Most of these have been presented multiple times, with slight modifications to the presentation based upon local needs / considerations (e.g., Constitution Day programmes, Burns Suppers, fundraisers / charity events).*
Internal Alchemy: neidan and it's western esoteric applications
Be the Hero That You're Waiting For
Commentary on the 15th Degree of the AASR.
Robert Burns: a Man's a Man for a' That
The Freemasonry of Robert Burns' time and place.
The Deil's Awa wi' Rabbie Burns
How a Parcel of Rogues have given us the wrong version of such an important historical figure … and what we can do to fix it.
Increasing Participation and Membership in the Lodge
The Benevolence of Masonic Charity
The Masonic Rite of Destitution
Reflections on the Circumpunct – from the Metaphysical to the Practical
Harmony – the Strength and Support of All Societies
An exploration of the role of the Masonic Lodge in political and societal problem solving and community building.
What's a Constitution?
An examination of what it means to be "free born" within the context of American Freemasonry.
Kabbalah and Krav Maga, the Mind / Body Connection
An exploration of the development of Krav Maga as the operationalization of Kabballah.
No Trespassing: The US Constitution, the Circumpunct, and the Morality of Self-Restraint.
Push the Reset Button
An analysis of the Scottish Rite Reunion in light of the Ark of the Covenant.
… And Then What?
On using the lessons of Freemasonry to purposefully build the habit of self-care and self-development; becoming the strength and support of our Lodges and our communities.
Travel Information: I will travel within 100 miles of Los Angeles by car, and at my own expense. Further than a two hour drive, traveling by car, I hope that the host will cover gas/hotel. I am open to, and have traveled beyond the SoCal area with the host covering reasonable costs (flight/hotel).
Websites: http://hoerricks.com/
Books Available – Leadership in the Lodge of Perfection. Available on Blurb.com. Currently in 4th revision.
To Book Jim, contact him direct with the form below.