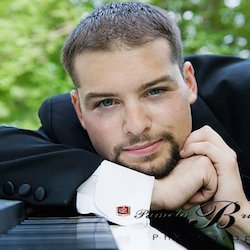 Bio:
RW James F. Chwalyk, Jr. is a native bilingual, professional musician, and educator with a great interest in the origins of language and linguistic features. In addition to English, he is fluent in American Sign Language (ASL) and has a working knowledge of Italian (5+ years of study) and Norwegian (3+ years). He was raised to the Sublime Degree of Master Mason in Clifton Lodge No. 203 of Free and Accepted Masons in Clifton, New Jersey in April of 2010, and served as Worshipful Master in 2019. He is also a Grand Musician of the Grand Lodge of New Jersey and has recently accepted the honor of serving on its Teacher of the Year Committee. He is a Senior DeMolay (Past Master Councilor of Clifton Chapter, Past Deputy State Master Councilor) and proud member of the Northern Valley of the Ancient Accepted Scottish Rite in New Jersey (32º, MSA), and the Salaam Shrine.

Prepared Topics:
The Language of Freemasonry – 60 Minutes
Have you ever wondered where some of the "older-sounding" parts of our ritual come from? (or in other words, whence they came?) Perhaps you struggle to understand whither you went or whether you actually went thither or came hither, thence ending up being now called to memorize all of this mumbo-jumbo and presenting it to who(m?) of right it belongs? The wonderful history of and solutions to these quandaries and other fun facts lie in the origins of not only our Masonic ritual but the English language itself! This presentation is open to MASTER MASONS ONLY, although versions can be prepared for Entered Apprentice and Fellow Craft masons.

Travel Information: NJ, Southern NY, DE, Eastern PA. Gas reimbursement required and accommodations may be requested for travel beyond 200 miles outside of Bloomfield, NJ.

Websites:

www.jameschwalyk.com


To book James, contact him direct with the form below.