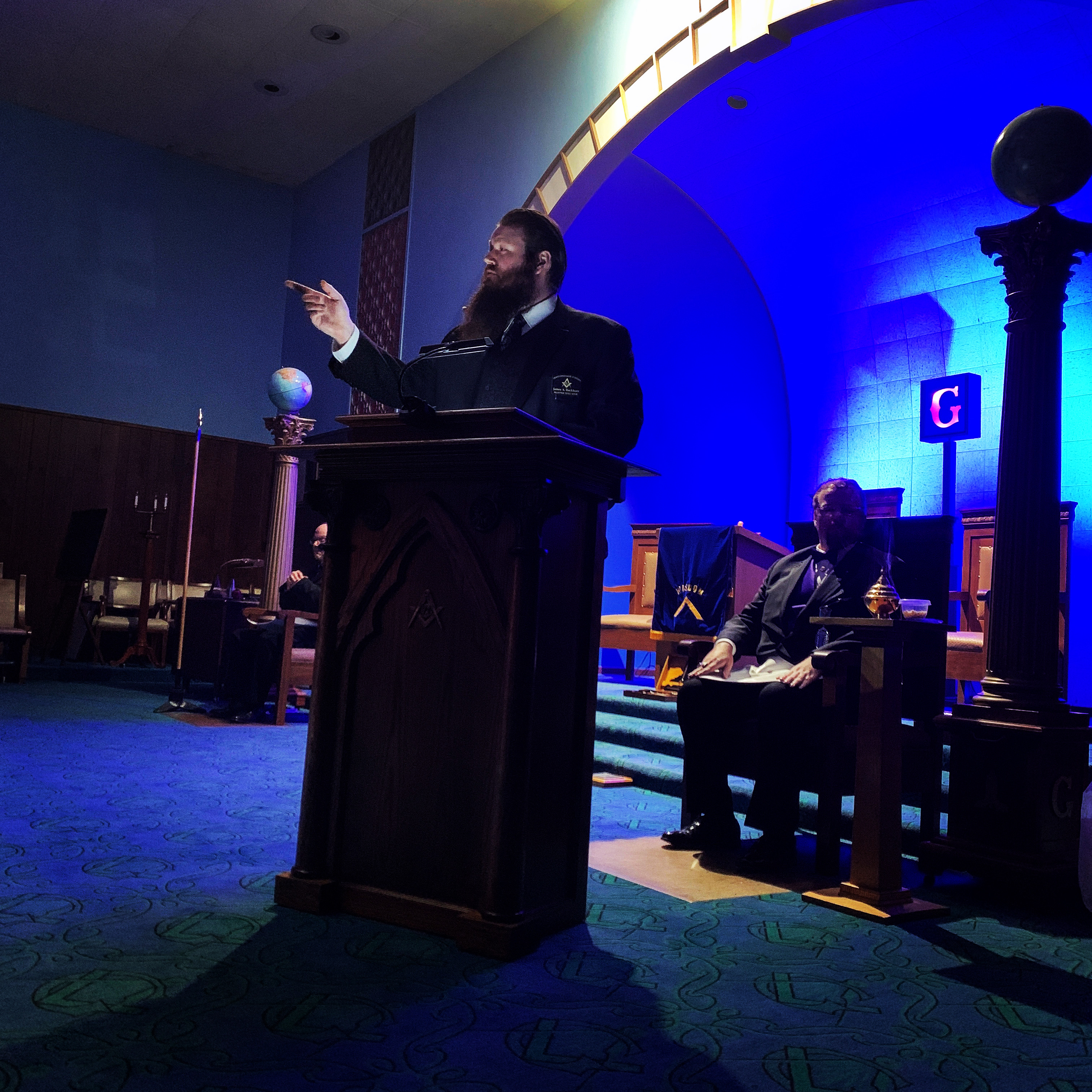 Bio:
James A. Buckhorn is a very active Freemason located on the northern side of Indianapolis, Indiana. He is a member and Past Master of Pentalpha No. 564, an observant lodge in Indianapolis, IN. He is also a founding member and the Junior Warden of Lodge of St. Andrew #775, a Scottish Special Interest lodge in Auburn, IN. Both of these lodges fall under The Grand Lodge of Indiana Free & Accepted Masons (F&AM), which is recognized by The Conference Of Grand Masters Of Masons In North America, the Grand Lodge of Ireland, the Grand Lodge of Scotland, and United Grand Lodge of England.
In addition to his role as the Chairman of the Illumination Program, Worshipful Brother Buckhorn has proudly served on the Grand Lodge of Indiana's Committee on Masonic Education since 2019 and the Grand Lodge's Technology, Communications, and Media Committee since 2018. He is also a Vice President of the Midwest Conference on Masonic Education. He has served as a Member of the Board since 2021.
Along with his passion for Masonic education, Worshipful Brother Buckhorn has a keen interest in history and Masonic research and is a member of numerous research societies and bodies. He belongs to the Missouri Lodge of Research, where he is a member of the Denslow Society. He is also a Life Member of the Illinois Lodge of Research, an Associate Life Member of the Ohio Lodge of Research, and a Junior Warden of the Dwight L. Smith Lodge of Research: Indiana's only research lodge.
In addition to his involvement in craft masonry, Brother Buckhorn is a member of the American York Rite bodies, the Allied Masonic Degree, Knights Masons, York Rite College, and is a fellow of the Grand College of Rites. He is an active member of the Scottish Rite, regularly attends the Valley of Indianapolis, A.A.S.R., NMJ, and is a Life Endowed member of the Valley of Guthrie, A.A.S.R., SJ.
Prepared Topics:
Guided Meditation – 45 to 90 Minutes.
Brother Buckhorn will take a topic of your choice and a develop a guided meditation suitable for your group.

[2-for-1: The Importance of Masonic Research – 15 to 45 Minutes
(made to be paired with The True Masonic History of the Forget-Me-Not. Combine time – 30 to 60 Minutes)

The True Masonic History of the Forget-Me-Not – 20 to 45 Minutes
(made to be paired with The Importance of Masonic Research. Combine time – 30 to 60 Minutes) Everything you've likely been told about the Forget-Me-Not lapel pin, it's history, and it's alleged use during WWII is completely fabricated.]

Grip Not, Want Not…An Examination of the True Secrets of Masonry – 20 to 40 Minutes
(this may be jurisdiction-specific – research is required for your jurisdiction)
Join Brother Buckhorn as he uses references to ritual, masonic law, social psychology, and historical records.

A Brief intro to the Swedish Rite – 15 to 35 Minutes
The Swedish Rite of Freemasonry originated in Sweden in the 18th century and is one of the most widespread Masonic Rites in Scandinavia. It consists of ten degrees divided into three groups: the Craft Degrees (I-III), the Steward Degrees (IV-VII), and the Mystical Degrees (VIII-X). The Craft Degrees are similar to the first three degrees of most Masonic Rites and focus on the development of moral and ethical principles. The Steward Degrees are unique to the Swedish Rite and focus on the practice of charity, kindness, and brotherhood. The Mystical Degrees focus on the search for knowledge and the pursuit of spiritual enlightenment. The Swedish Rite is notable for its emphasis on Christian symbolism and rituals, as well as its use of the Templar legend in its higher degrees. The Swedish Rite is governed by the Grand Lodge of Sweden and has spread to other countries, such as Germany, Switzerland, and other European countries.

The Very Basics of Masonic Research – 25 to 60 Minutes

FactGrid – Information and A Call to Action! – 10 to 45 Minutes

An Overview of American Masonic Watches – 5 to 35 Minutes
Traveling Information: Brother Buckhorn is willing to travel nationally and internationally as long as travel and lodging are taken care of. If your group has limited funding that would prevent or limit a speaking opportunity, he's happy to discuss where a compromise might be made.
Websites: facebook.com/AreYouATravelingMan
To book James, contact him direct with the form below.