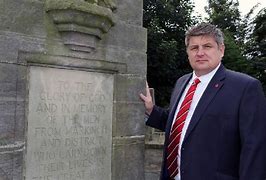 Bio:
Gordon Michie joined his father and grandfather's Lodge as a Lewis in 1989 and went onto become the Master of Lodge Earl Haig in 1997 – 1999 since vacating the Chair of the Lodge he has served as Treasurer and sees no future where that will change, unfortunately. He has served his Province with two Commissions as Substitute Provincial Grand Master. He is currently the Master of Province's research lodge The Lodge, Hope of Kurrachee no 337 and during his tenure, he instigated the Lockdown Lecture series of Zoom meetings. Gordon is currently also a member of the Grand Committee of the Grand Lodge of Scotland and a member of Internet Lodge (EC). He has also been an active member in many other Orders particularly the AASR and the Royal Order of Scotland. One of his passions is masonic history and its place in civic Scotland with a particular focus on Freemasonry in the military. An avid collector of masonic books he currently has over 700 titles in his collection. In his professional life, Gordon is Head of Fundraising and Learning for Poppyscotland one of his duties there is to ensure that the Nations's symbol of Remembrance the Poppy is available across the country whilst ensuring that the organization can introduce new and diverse income streams. He also serves in a voluntary capacity as Director of Veterans Housing Scotland and is a member of the General Council of Erskine. Gordon is married with two grown-up children and lives in Markinch – the Ancient Capital of Fife.
Prepared Topics:
Freemasonry and Remembrance – 50 Minutes
A journey through the Masonic connection with the development of Remembrance that grew out of the Great War. Supported by PowerPoint
Scottish Freemasonry and the Victoria Cross – 50 Minutes
A look at the development and history of the UK's highest award for Valour and an introduction to the 58 Scottish Freemasons awarded the VC. Supported by PowerPoint
The life of Bro. Admiral of the Fleet, Lord Jellicoe – 50 Minutes
An insight into this famous brother's life and his Masonic journey. Supported by PowerPoint
The life of Bro Field Marshal The Earl Roberts of Kandahar – 50 minutes
An insight into this famous brother's life and his Masonic journey. Supported by PowerPoint
The American Military and its Masonic roots – 40 Minutes
A look at those Freemasons involved in the development of the various branches of the American military. Supported by PowerPoint
The Medal of Honor and its masonic connections – 45 Minutes
An insight into the highest award of valor in the US and its Masonic connections. – Supported by PowerPoint
Freemasonry and Space – 30 Minutes
A look at those brethren who have literally went out of this world. Supported by PowerPoint
Travel Information: As he is based in the UK, these are offered via Zoom technology, unless a Lodge is prepared to arrange travel and accommodations.
Websites: Lodge Hope of Kurrachee facebook

To book, Gordon, contact him with the form below.