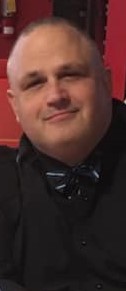 Bio:
Chad Kopenski is a Past Master of Paramuthia Lodge #25 in Athens, Ohio, a member of Amesville Lodge #278 in Amesville, Ohio, and a member of Oregon Lodge #151 in Oregon, Wisconsin. Chad is a Past District Deputy Grand Master, the Chairman of the Grand Lodge of Ohio Education Committee, an officer of the Midwest Conference on Masonic Education and a Regent for the Royal Scofield Society. Chad is an educator by trade and a proud autism dad. He lives with his wife, daughter, and various critters in Appalachian, Ohio.
Prepared Topics:
How Freemasonry Made me a Better Father – 45 Minutes
Story and discussion of applying the working tools to raising a special-needs child. Can be done virtually.

Finding Freemasonry (Pecha Kucha) – 15 Minutes with a guided discussion afterward
Story of applying the working tools to raising a special needs daughter, designed to a different format to maximize the emotional effect. Can be done virtually.

5 Guideposts to Supporting Our Membership – 20 Minutes with discussion
5 guiding concepts for Lodges to better forge and strengthen connections amongst the Brethren. Can be done virtually.

Rethinking Ritual – 30 Minutes with a discussion afterward
The largest misstatements about Ritual and how to better reframe them, using an exploration of the nature and purpose of Ritual. Can be done virtually.

How to Make the Ritual More Theatrical – 30 Minutes discussion afterward
Applying theatre theory to our Ritual in order to create a unified message and purpose from the Lodge and a more intentional Ritual presentation, ultimately ending with the Lodge discussing their own Ritual message, purpose, and intention. Can be done virtually.

John Sherer: Gems of Masonry – 20 Minutes
What we know about the life and influence of John Sherer, an artist and engraver behind some of the most widely used and accepted Masonic carpets. Can be done virtually.

Power of Masonic Fascination (Pecha Kucha). – 15 Minutes
Power and importance of fascination in Masonry, where fascination can take you, and why we need Brethren to become fascinated with Masonry. Can be done virtually.

Freemasonry in Popular Culture – 30 Minutes
A presentation that explains some of the myths and misconceptions behind Masonry prevalent in popular culture (Morgan Affair, Templars, Taxil Hoax, Masonic symbols used as gang signs, etc.) Can be done virtually.

History of the Royal Scofield Society – 30 Minutes
Explanation of Ohio's Masonic Education Honor Society and the story of its creation, which is an illustration of Masonic values in action. Can be done virtually.
Travel Information: Would prefer virtual until mid-2021. Have Apron, Will Travel. Will travel out of state, anything more than a state away would need flight or hotel covered. Will have Masonic Autism Awareness/Acceptance Pins for purchase.


To book Chad, contact him direct with the form below.